May 2nd, 2016: The day I had realized I was now a victim to water damage.
It's always ironic to me when a Doctor comes down with the flu. Or when a midwife brings her own child into the world. But I had never imagined the lack of humorous irony I would feel when I, the girl who markets First Call Cleaning & Restoration, would have her own water damage to deal with.
I walked into my bedroom exactly like I had every day for a month. Today was the same as any other day. I opened the closet to access a filing cabinet that contained reference books. I quickly noticed today would not be like any other day. My carpet was soaking wet and water began puddling at my feet.
Working for a Disaster Remediation company I was very familiar with the process of mitigating and restoring property that has been effected by water. Though, until this day, I didn't know the process of personally coping with the affect of water in your home. It's confusing, intimidating, and all too irritating. I was overwhelmed with a melancholy feeling from the very beginning.
May 2nd, 2016: The day I felt uncomfortable in my own home.
For the next couple of days I will be sharing my experience with you all. I want to spread awareness and shed some light, and maybe a little encouragement, on how to deal with a water damage happening in your home.
DAY 1
The problem has come to light. My closet smells musty. "OH GOD", my foot is soaking wet. I touch my hand to the wall, it's ice cold and moist. Along with this discovery in lurks a crushing sense of misfortune. My hands clasp to my face and tears fell from my eyes as I realized how upside down my home was about to become.
I live in an apartment, therefor I was at the mercy of a Property Manager and a Maintenance man. First step, get a professional on this. Moisture levels have been taken and the problem has been assessed. I'm beginning to see some light within this gloomy situation.
Here is where my experience within the office of First Call Cleaning & Restoration didn't pay off. Step two, bring in a second professional to dry out my floor. Up comes my carpet and down goes two massive air movers, along with an even larger dehumidifier to dry out the carpet, the subfloor, and the walls, and manipulate the temperature and humidity within the room in order to control moisture levels. But wait, all of the contents must be removed from my closets. Most of my clothes are now crammed in a closet that isn't mine and the rest are lying on floor in the other bedroom. "Okay, this isn't that bad. This will all be okay." At this point I'm trying to coax myself out of a meltdown because I'm a neat freak. But here's the point where coaxing myself didn't seem to fit the bill anymore: These air movers are LOUD.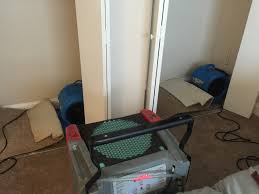 I slam my bedroom door in hopes to block out the noise coming from the equipment and lock my frustrations back there with it also. All day I'm engulfed in frustration and worry.
Day 1 of my water damage ends with me sleeping (more like napping) on the couch, while optimistically calling it a "couch-bed" in order to make myself feel better. These walls are still mine. The furniture and the things within these walls are mine. But this space, no. This space is not mine any more. And this will be life for the next 72 + hours. Couch-bed and all.