Service Areas in Central North Carolina
Our headquarters are based in Burlington, but we have a mobile response team that helps residents throughout the Triangle, Triad and surrounding communities. Whether you're in Raleigh or Winston Salem,  we offer 24/7 emergency services to help you maintain the health of your home or business.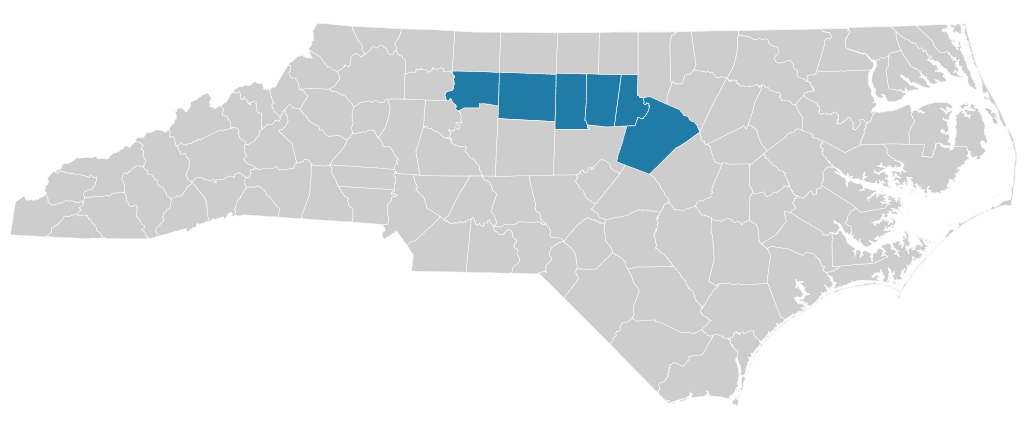 Wake County: Raleigh, Cary and Wake Forest
Since 1989, we've serviced clients throughout Wake County. Whether you've discovered mold in your 19th century home in historic Oakwood or you recently purchased a new house near Brier Creek, we're ready to help you with everything from attic mold removal to water damage restoration.
We proudly serve Raleigh, Cary, Apex, Holly Springs, Wake Forest and surrounding communities.
Durham and Orange Counties: Durham, Chapel Hill, and Hillsborough
Perhaps your company is leading the way with the Durham downtown restoration projects, but you have concerns about how air quality is affecting the health of your employees. Maybe a pipe burst in your home along Franklin Street and severely damaged your floors. We can provide wide-ranging services for homeowners, universities and businesses of any size.  Wherever you need assistance, First Call is the right call.
We proudly serve Durham, Chapel Hill, Hillsboro, Carrboro and surrounding communities.
Alamance: Burlington
If you live near the Haw River,  you know that flash flooding can present problems for your home or business. When the unthinkable occurs, it's important to start disaster cleanup immediately to minimize issues that can be caused by water damage. No matter what your situation or the size of your job, First Call is the right call.
We proudly serve Burlington, Mebane, Elon and the surrounding communities.
Forsyth: Winston-Salem
History comes alive in this area, where visitors and locals alike can tour Old Salem to experience the Moravian culture.  Perhaps your allergies have gotten significantly worse, and you're worried about the air quality in your historic home. Maybe you're concerned about water damage or mold affecting the new house you purchased around Salem Lake.
We have more than 25 years of experience that we put to work for you. We understand the importance of details and the need for perfection.
We proudly serve Winston-Salem, Kernersville, Clemmons and the surrounding areas.
Guilford County: Greensboro, High Point
Do you live near North Buffalo Creek? If so, you're aware of how quickly flash floods can transform the area, particularly around Wendover Avenue. Sometimes, water damage is obvious. Other times, it may be lurking behind the walls in the form of mold. We can provide not only water damage restoration services, but we can conduct air quality tests so you can rest assured that your home or business is safe.
We proudly serve Greensboro, High Point, McLeansville, Jamestown and the surrounding areas.
First Call Rises Above Other Local Restoration Companies
Our dedication to clients and our community is the guiding principle behind all that we do. If you are in the Triad or Triangle regions—or one of the surrounding communities—we want you to know that we're only a phone call away.